Everything You Should Know Before You Love Me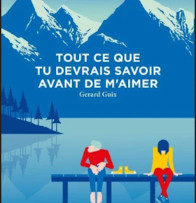 Les FORGES de VULCAIN, Tout ce que tu devrais savoir avant de m'aimer, 2022, 384 p. FICTION, French (trad. Carole Fillière)
COLUMNA, Tot el que hauries de saber abans d'estimar-me, 2011, 250 p. FICTION, Catalan
Novel eligible for translation grants for Catalan novels from the Institut Ramón Llull
Pin i Soler de Novel.la awards 2001
A novel, with a very personal poetic style that opens up to the fantastic, therefore has a very broad reading horizon. The readership is female and male, young adults and avid readers.
If our lives are like a film, are we actors… or spectators?
Five years have passed since Gerard and Anastasia met in London. Five years in which, despite the passion of the first days, they have grown apart until they feel very far from each other, even though they are in the same bed. Now they are about to embark on a journey to the Swiss shore of Lake Geneva. There, in the house where actress Audrey Hepburn spent her last days, Gerard will try to revive his literary career while she desperately tries to save their relationship. Gerard Guix uses humour, suspense and fantasy in this novel, full of love for the cinema, where readers will discover whether it is possible to erase our memories and live without any.
Musical, visual, sensual novel, but not a conventional romance. The fantastic atmosphere that gradually imposes itself, the suspense, the psychological precision of the characters but also the humour nourish a reflection on questions such as the power of forgetting to overcome suffering and difficulties, to the point of envisaging a life without memories. The gradual transformation of the story into a magnetic tape that is slowed down, accelerated and listened to in reverse fascinates by its hypnotising power. The last scene is masterful in this respect. The author's qualities as a dramatist can be seen in his mastery of the rhythm of the story, the setting of the space and the psychological depth of the characters.
Original Title
Tot el que hauries de saber abans d'estimar-me
Rights sold
France (Les forges de Vulcain); Spain (Suma de letras); audiobook in catalan (Saga-Egmont, Denmark)
Sample and full-text version available in Spanish and French
Territory of representation
World Wide
More about the rights available for this book
sophiesavary@sosavbooks.com