INEDIT MANUSCRIPT Madame Udama's improbable restaurant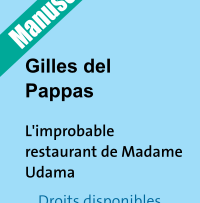 FICTION / YOUNG ADULTS, french
A novel full of generosity, with moving and truculent characters, a novel where cooking is omnipresent and mouth-watering. The life of a working class district in Marseille, its solidarity, the beauty of sharing, the beautiful and cruel life of people with offbeat lives (refugees, marginalized people).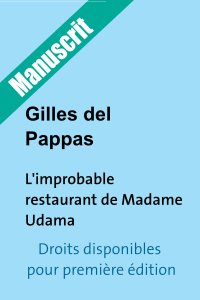 Une famille de réfugiés est chassée de son appartement au cours d'un printemps froid, neigeux. Le père, désespéré, fuit et abandonne sur des marches d'escaliers une femme et ses trois enfants. S'organise alors, dans ce quartier historique de Marseille, le Panier, une véritable solidarité pour aider ces gens en détresse.
L'auteur met en scène des personnages truculents qu'il a côtoyé du temps ou il vivait au cœur de ce quartier populaire de Marseille. En effet, à deux pas du Vieux-Port vit une population mélangée qui s'intègre par les valeurs ancestrales de la ville. Le sens du partage, la générosité, l'ingéniosité, la débrouille, l'altruisme est au cœur de ce récit émouvant. Le lien, le ciment de ce conte moderne est le plaisir de la cuisine.
Dans ces milieux pauvres, abandonnés depuis longtemps par une municipalité obscène, ouvertement raciste, défaillante, le savoir-faire de nos cuisiniers sauve de l'abattement et du désespoir. Madame Udama, la maman est justement une très très bonne cuisinière, elle ne va pas se laisser abattre et très rapidement va, aidée d'une foule d'habitants du quartier, ouvrir un restaurant, « Chez madame Udama ». C'est par les yeux de son second fils, Babacar, un garçon éveillé que nous allons vivre ses aventures cocasses et dramatiques à la fois, qui vont secouer le petit village du Panier.
Original Title
L'improbable restaurant de Madame Udama
Territory of representation
World Wide
More about the rights available for this book
sophiesavary@1jardin2livres.com