Dribble assassin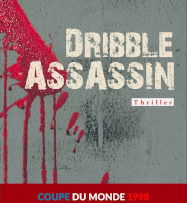 Gilles DEL PAPPAS et Emmanuel PETIT
RAMSAY, 2021, 243 p. CRIME FICTION, french
Second opus of the Trilogy of football polars, with the Commissioner Clémentine Paccini
Tignes, November 97, oxygenation course for the French national team, a local FIFA representative is found with his throat cut and his hands hanged.
Casablanca, May 98, Hassan II competition, a young FIFA representative is found dead, with her throat cut.
At the scene, in the victim's hand, the police find a torn off part of a key ring with a silver rooster. A clue?
The investigation is entrusted to the commissioner Clémentine Paccini and her assistant, forensic doctor, Anne Legendre.
Marseille, 12 June 1998, France-South Africa opening match, another victim is found in a cupboard of the Velodrome stadium.
In the middle of the World Cup, the investigation turns to the Blues and their entourage.
Why are there so many murders linked to the French team? Is the murderer one of the 23 players in the team?
Experience an exciting investigation by Commissioner Paccini during the 98 epic that left its mark on the whole of France.
Original Title
Dribble assassin
Territory of representation
World Wide
More about the rights available for this book
sophiesavary@sosavbooks.com