Everything You Should Know Before Loving Me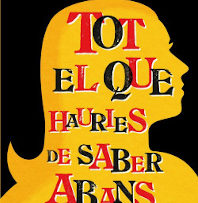 COLUMNA, 2011, 424 p. FICTION, Catalan
Awarded with the XXI Pin i Soler Prize
A somewhat fantastic road movie that takes us from Catalonia to London to the centre of Europe, punctuated by flashbacks and music.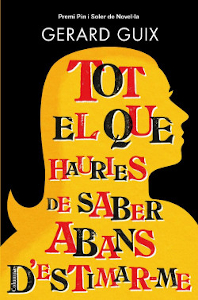 Five years ago in London Gerard and Anastasia meet casually. Soon after, the girl goes to live with him in Barcelona, ​​where the young boy had tried to turn her in someone other than the Russian student who attracted him, as she kept a puzzling silence about her past. Now both are on a journey to the center of Europe, the Swiss shores of Lake Geneva. Although Anastasia doesn't know the reason for this departure, she believes that is perhaps the last chance to save their relationship. Gerard, however , is obsessed with getting out of his creative crisis, and the journey targets the house in which the actress Audrey Hepburn spentthe late years of her life, where he will try to boost his career as a writer with unconventional methods.
Half way between fiction and autobiography, Everything You Should Know Before Loving Me shows in bare way the always difficult relationships in a couple but makes good use of the suspense, the humour and the imagination to raise questions such as whether it would be possible to live with no memories.
Original Title
Tot el que hauries de saber abans d'estimar-me
Rights sold
Spanish (Suma de letras); French (Les forges de Vulcain); audiobook in catalan (Saga-Egmont, Denmark)
Sample and full-text version available in Spanish and French
Territory of representation
World Wide
More about the rights available for this book
sophiesavary@1jardin2livres.com