The Fourth Girl On The Left
CRIMS.CAT (CLANDESTINA), 2023, 480 p. FICTION, Black Novel, Catalan, Spanish (Alrevés)
Author supported by the Ramón Llull Institute, translation grants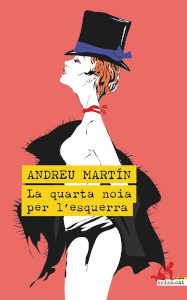 World War I. While the main European cities are bleeding into conflict, Barcelona is one of the great pearls of the Mediterranean. Despite its status as a neutral territory, no one ignores the fact that on the coast there are ports where they can illegally stock up on fuel and groceries, with the approval of the local authorities, and that German submarines arrive at Cape Ixent where all kinds of interests and conflicts with secret services, double agents and spies from here and there are cooked.
In the heart of this Barcelona in the midst of an urban boom, with the noise of the streets, the bustle of bars, casino games and evening shows, comes Amadeu, a peasant boy fresh out of the seminar, who is looking for a dancer with whom his father had lived a strange adventure. She has only one clue: she is the fourth girl to the left of a photograph she keeps in her jacket pocket. She immediately discovers that her name is Amanda Rogent and that she is on display at Barcelona's Moulin Rouge: a whole vedet who loves to scandalize. Amadeus needs to find answers, but discovering the truth is not always the best thing that can happen to you…
After titles such as Tibidabo's Harem, Everyone Will Remember You, Harem's Favorite, You're Going To Say I'm Crazy and Cops (the latter, signed with Joan Miquel Capell), Andreu Martín returns to "Crims.cat" with a very retrospective novel, set in the exciting Barcelona of the first decades of the twentieth century.
Original Title
La quarta noia per l'esquerra
Territory of representation
World Wide
More about the rights available for this book
sophiesavary@sosavbooks.com