The Parking Lot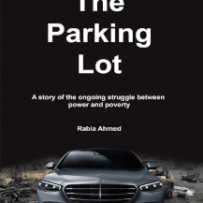 FEROZSONS, 2022, 200 p. FICTION, Novel, English (Pakistan)
A story of the ongoing struggle between power and poverty in Pakistan's town.
It's an investigative novel because the author is a journalist, at times a social novel, but also an intimate novel, and always in a simple and elegant writing. Pakistan, with its social and urban problems, has so much to tell us.

"Set within the framework of a family coming to terms with its own dark secrets, Rabia Ahmed's novel brings into sharp focus the discrimination, violence and injustice religious minorities face in Pakistan. At times her account doesn't read like fiction, so familiar is the sequence of events to us. This compelling story should evoke, among readers, greater understanding and empathy for our marginalised fellow citizens who are equal on paper only." Zohra Yusuf, former chairperson Human Rights Commission of Pakistan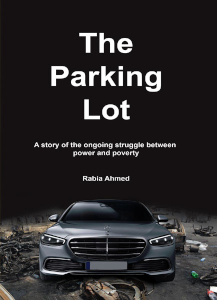 In her search for the 'other family', Hina, a young journalist, takes us from her upper middle-class neighbourhood in Lahore, to a very different setting. The Parking Lot deals with the gulf between the rich and the poor in Pakistan, the Christian community discriminated and the muslim richer segment of society.

The Parking Lot was written in English, in an everyday but elegant language, with occasional hints of Urdu or Punjabi, as it is set in the huge city of Lahore, on the border with India. Rabia Ahmed, herself a journalist deeply involved in defending discriminated communities and freedom of expression in Pakistan, tells us the story of a journalist from a wealthy background, and therefore a Muslim, who is facing the complicated moment of her father's death. She and her sisters are looking for ways to maintain their lifestyle and, above all, to continue caring for their mother, who is suffering from Alzheimer's disease. What to do with this big, beautiful house, too expensive for them? In the midst of their preoccupations with inheritance, she discovers that they have a hidden sister, a Christian girl that their father had had before he married their mother. She decides to go and look for her, and meets her living in a Christian slum area. She became fascinated by the people living there and decided to publish a report about their living conditions. During her investigation, she discovered that violence was being inflicted on the community's inhabitants, and quickly made the connection with a huge, modern, speculative property development being built next to the area. It's a despised neighbourhood, which is ideally placed to build the car park for the brand new shopping centre that's coming up.
Gradually, the novel takes on a black novel air, showing us the sordid underbelly of Pakistani society, the unscrupulous rich businessmen, the ordinary discrimination.
Of course, we enter an unfamiliar social world, discovering a city, its tropical environment, its inhabitants, its languages, all thanks to the touching and intelligent characters.
Original Title
The Parking Lot
Territory of representation
Europe
More about the rights available for this book
sophiesavary@sosavbooks.com