How many things have we seen disappear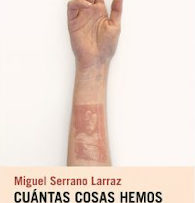 CANDAYA, 2020, 288 p. Fiction, spanish
A novel about lost illusions and a disappearing people, about the possibility of changing the past.
A unique tribute to science fiction, horror, sentimental novels and other genres of popular literature.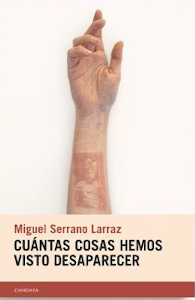 Sonia is a girl obsessed with death. Berta's obsession is the passage of time. Their friendship is inevitable in the Pyrenean village where they spend the summer, a small town doomed to disappear. The excesses and quests of adolescence and early youth create a bond that seems unbreakable, and that is reinforced by an unlikely project: to build a machine that allows them to modify the past. However, life unfolds before them and the two friends drift apart. On the verge of turning forty, Sonia receives a message from Berta, in which she announces that she has finally discovered the way to fulfill the dream that has occupied her whole life: to travel in time. Sonia, fed up with her friend's delusions, which have caused her so much harm, decides to forget old grudges and agrees to meet her one last time.
Deepening his peculiar commitment to a deep, oblique and subtle narrative, Miguel Serrano Larraz dives once again into the abyss of longing and completes the radiography of an era of our recent history that he began with Autopsia (Estado Critico award for the best novel published in Spain in 2014). Although friendship, the different forms of violence and the search for the impossible remain fundamental, How many things have we seen disappear adds such suggestive elements as the limits of sanity, the depopulation of rural areas and the inquiry into the relationships between women of different generations.
"Miguel Serrano writes out of necessity and it shows" Domingo Ródenas. El Periódico.
"A generational but political work, realistic but aware of the limits of representation, and nostalgic but written with good style and reflective brilliance. Miguel Serrano has shown that it is possible to make strong 21st century realism". Vicente Luis Mora, Diario de Lecturas.
"Miguel Serrano Larraz's is honest literature: he is not a fireworks artist, but an old-fashioned watchmaker, a storyteller." Sergio del Molino
"Miguel Serrano, heir to Bolaño's chupa" Julio José Ordovás, La Vanguardia.
"A remarkable stylistic power and a sometimes memorable conceptual audacity" Ricardo Menéndez Salmón, Número cero.
"Serrano possesses the same choppy, sometimes suffocating breath as Bernhard". Sara Mesa, Micro-Revista.
Territory of representation
World wide
More about the rights available for this book
sophiesavary@1jardin2livres.com