Climate Refugees. A Crucial Challenge for the 21st century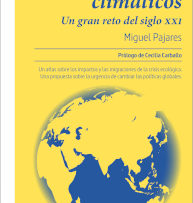 RAYO VERDE , 2021, 236 p. NON FICTION, Social Sciences and Politics, Spanish
An atlas of the impacts and migrations resulting from the ecological crisis.
An appeal on the urgency of changing global policies.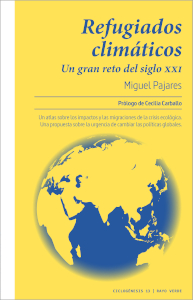 The issue of climate refugees is one that demands to be explored in greater depth. Climate change or global change will irreversibly transform the planet, and the most severely affected areas will witness massive human displacements.
COVID-19 has shown us how vulnerable we are when nature responds to the damage we inflict on it. However, the threat COVID-19 poses pales in comparison to that posed by climate change. Climate change spells the desertification of whole regions, the loss of vast areas of crops, reduced supplies of drinking water, rising sea levels and increasingly destructive hurricanes. Such outcomes will produce significant population movements, in the form of both internal displacement and migration. This book details the severity of climate impacts, and offers an in-depth analysis of the climate displacements and migrations that are already taking place and those that may occur in the coming decades. A region-by-region analysis
is conducted, focusing on various parts of Africa, Asia and Latin America. The book also engages with the debate about whether people fleeing climate impacts should be considered refugees, and proposes measures for both the fight against climate change and the management of migration.
Original Title
Refugiados climáticos. UN gran reto del siglo XXI
Long summary, contents and sample in english available
Press Review available
Territory of representation
French language
Agent for all other language : Oh!Books agencia literaria
More about the rights available for this book
sophiesavary@1jardin2livres.com